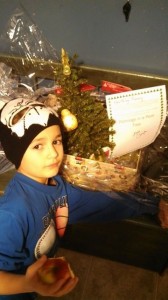 12 days ago we came home to a note that said Santa was sending a gift to us for each of the next 12 days of Christmas.  Our first was a Partridge in a Pear Tree (an actual mini-tree) and all sorts of goodies.  At first I didn't think that we would really get a gift each day, but we have and today we received our last.  They're brought into the neighborhood by different deliverers and set on our steps.  Sometimes it's a gentleman and sometimes it's a younger teen.  I don't know them.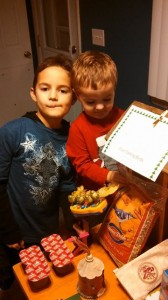 Everyone asks if I know who.  I have NO clue.  A neighbor?  A church family member?  Someone from school?  Someone from Get Fit Warehouse?  A GROUP of people is more likely because this has been an absolute blessing.  We've enjoyed numerous foods, goodies, activities for the boys, slippers, candles, gloves/hats, decor, and a Christmas dishes set.  So many trinkets, gadgets and thoughtful things.  All gifts were themed to the 12 Days of Christmas Song and each day had an ornament with the number of the day and a picture depicting the song.  For example 8 Maids of Milking had milk, chocolate milk, creamer, yogurt, milk straws and more.  So creative!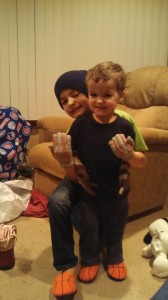 I am trying to remain "still" and just enjoy, but I'm also brainstorming constantly about who these elves may be that are helping Santa out?  I want to reciprocate, but can't.   One because I don't know you and two because it's not possible financially.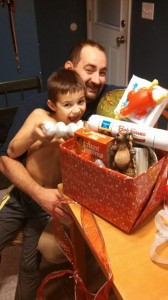 So, Santa, and all of your elves, please know that from the inner most part of my being, I thank you for writing on my family's story and blessing us this Christmas.  I will, we will, continue to pay it forward in any capacity we can.  Lincoln knows that this won't happen every Christmas and he's been an absolute joy to watch as he's unwrapping these gifts.  I don't know why you chose our family, but I do know that we are forever changed because of you (all).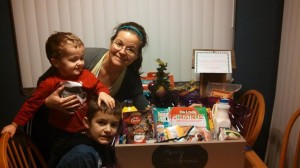 previous post: "Oh, Dear"
next post: Expectations and Perception
You can follow any responses to this entry through the RSS 2.0 feed. Trackback from your own site.