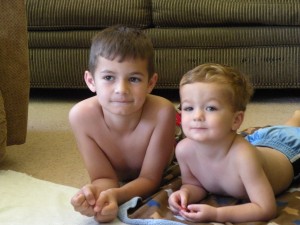 I'm down 60 lbs. since January.  I have found that unlike what I used to tell myself, taking time to exercise doesn't take away from my family, it enriches it.  I am happier and more grounded.  Will and I are in such a good place right now and I think it has a lot to do with our physical well-being.  It transfers into our emotional well-being.  He has been so super supportive of me and I never want to go back.  I can feel myself relaxing and a peace of mind transferring into all aspects of my life.  Is all perfect?  No, but that's life.  I'm learning to ride the wave and enjoy all parts…bumps and all. I am so very grateful for support from family, friends, coworkers, neighbors and a special place called the Get Fit Warehouse.  My heart is so filled with love and appreciation.  We are so blessed with 2 beautiful, smart, witty, charismatic little boys who I get the privilege of parenting with an amazing life partner.  God is good.  If you click on the before/after picture it should become full screen allowing you to see a more accurate depiction.  While I'm happy with my progress, I'M NOT DONE! 


previous post: Bloggity Blog blog blog
next post: Nothing Better.
You can follow any responses to this entry through the RSS 2.0 feed. Trackback from your own site.