We will start this with a fall picture.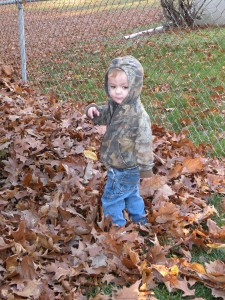 We have ourselves a mocking bird.  This lil boy is so very smart.  Lincoln 2.0, but with a Mr. Mattox twist.  I was thinking today that I need to document all his little nuances and phrases so I don't forget.  So, here I type some of my favorites:
"Boom, Boom, BAH"  To the rhythm of "We will, We Will, Rock You!"  He will randomly say this beat and then command, "Mama!  Dada!  Bruh Bruh!"  That means we must join in!
"Where Dada?  Where go?  Uh-oh"
"Buht-ball."  (football)
More commands:  "Howp" (help), "Up" (get up and come here),
"Appum"  (apple)  "Popem" (Pop-Tart)  Thank you, Lincoln for that one!
"Shide" or "side" (take me outside, I want to go outside)
"Gramma"=Grammie, but he says Gramma clear as a bell.
"Bobo"= Grandpa, but now it's also "Ganpa"
"Rye"=Rylie (my parents' Shitzu)
Everyday he's learning and saying new things.  He does a lot of jibber jabber with a lot of "dada, mama, bruh bruh" mixed in.  He is so animated with his hands, inflection, facial expressions and how he studies things.  LOVE THIS AGE!!  He LOVES reading books and pretends to read them to you.  Just this past week he's taken a real interest in letters.  He loves the show Word World like his older brother did, although he doesn't watch a full episode yet.   And now, when we're reading, watching TV, playing with letter blocks, walking in the mall or at the Y, he picks out letters!!!  Yes, not even 2 and he knows MANY of them.  In particular he knows A, B, C, I, E!  It is amazing.  We got out some of Lincoln's letter and letter cards and he's blowing us away with how he matches them up.  Tonight, Will asked him to give him a green letter and he picked up a green one!  Yellow, too.  But he hit a wall with the red one.  The best thing?  Was seeing/hearing Lincoln's excitement when Mattox was showing his letter skills, "MOM!"  Lincoln said, "Can you believe it?  He's a BABY and he knows letters!  That is AMAZING!"  Then we showed him a Youtube video of him at before age 2 doing a letter puzzle.  He was captivated looking at a younger him.  I've always told him we gave him lots of attention too, but after he saw it he was so stinking lovey to me. 

Back to Mattox, what's more?  He will bring you particular books when you ask for them, he will do little errands like fetch shoes, throw away garbage, etc.  He'll play in his room for 10-20 min. spans for daddy during the day.  We're so excited with his PT as he's caught up on his milestones for the most part.
So far the "no's" and "mines" are limited.  But we know they're coming.  We haven't had any real toddler tantrums, but we know they're coming, too.  Thankfully, Lincoln is amazing with him and is patient beyond his years.  Being an only child, and never having a sibling to share with or fight with, it is amazing to see the love my two boys have for each other.  We are so very blessed.
previous post: 2 months….really?
next post: Spring Fever
You can follow any responses to this entry through the RSS 2.0 feed. Trackback from your own site.