So it's been forever since I've blogged, I've determined by numerous ideas of my own that I've tried to launch and been unsuccessful that I think I have a lot to say but in the end I just don't have the discipline to keep blogging on a regular basis.  A  lot has happened since I blogged last, Lincoln has started Flag Football, earned a yellow belt in hap ki jitsu, grown what seems like 3 feet and gotten a little mouthy (mostly with mom).  Mattox is walking pretty good, repeating A LOT of words and loves watching dada play "goff" on the ps3.  We had an interesting weekend this past weekend as Lincoln had a head on collision with another kid at the Bounce Castle and took a pretty nasty cut on his upper lip.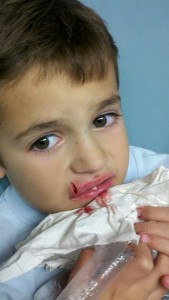 As you can see he looks like he tried to box out Ron Artest, despite the pain of stitches (Amber said herself and 2 nurses had to hold him down) he's been a pretty tough dude about, with no complaining at all the last day and a half since it happened.  He had to get 2 stitches on the outside and 3 on the inside, not sure if he'll get a scar from it, but he'll for sure have photographic evidence to look at when he's older.
previous post: Diggin Up Them Holes, Diggin
next post: Mattox's Words
You can follow any responses to this entry through the RSS 2.0 feed. Trackback from your own site.