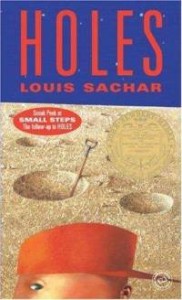 One late summer evening, somehow Lincoln was allowed to watch the (PG) movie  Holes (with Daddy).  I read this book to my first class 10 years ago and then took them to see the movie later that school year.  (Some students who I remember:  Kern, Dean, Tyler, Gage, Aleia, Josh, Liz, Kelsie, Nick, Jermaine, Cashyia, Tyiana, Chris M., Chris N., Patrick, Donovan,  in particular.)  I have memories of reading it to my then 4-6 graders and we really enjoyed the story together.  But my 6 1/2 year old first grader being exposed to some of the concepts, (juvenile detention centers, "bad" boys, racism, segregation, execution, a complex present tense/past tense plot, etc.) made me nervous.  My initial reaction was that my innocent little boy would be "ruined."  After all , to him, "stupid" is a swear word.  No disrespect to my upbringing, but at 6.5, I was exposed to a great deal more than Lincoln, be it language, situations, substances, etc.  So, I guess it could be worse.
What's more is that Papa and Memaw watched Lincoln a few evenings later and they watched Holes together.  Did I mention Lincoln can become somewhat fixated on things when he likes them?  Papa and Memaw found it quite difficult to completely enjoy the movie because of little "Mr. Commentator" (he gets this from daddy) who foreshadowed everything for them.  Conceptually, he got it!  He knew that there were two time periods featured in the movie.  It bothered him that Sam and Kate weren't allowed to be in love and Sam was executed.  He thought Caveman was a real hero for going after Zero and didn't understand why he was forbidden to teach Zero how to read.  This kid is amazing.  I love him so much.  He absolutely melts me.
Every morning this week he has watched at least 20 min. of the movie (yet again!) before school.  So, Wednesday I showed him the book in my classroom before we left school.  His eyes LIT UP!  The past two nights we've stretched out on his bed on out stomachs and I've read him a few chapters each night.  I can see him making pictures in his mind.  His little hand pauses on my shoulder when he wants to tell me something.  It usually starts with, "Mom, Mr. Sir said ______ in the movie, but this is a difference in the book."  He catches so much!  Must be like 3 things per page, which can put a real hitch in fluency.  Finally, I said, "You'll find lots of little differences, so how about you only share the ones that really shake things up and make a BIG difference."  "Alright, mom."
Alright, my son.  Please don't grow up any more.  I can't take it.  You melt me.
previous post: Walking, 2 Wheels, School Starts and Dressing Up
next post: 2 months….really?
You can follow any responses to this entry through the RSS 2.0 feed. Trackback from your own site.