Summer is over.  Yup.  School at da Vinci has begun!  I have a really nice class this year (and still have 4 openings).  Lincoln likes Ms. Karina's class and we're already getting back into the swing of a regular schedule.  Here's a first day of  1st grade school picture. Complete with Timbits donut holes!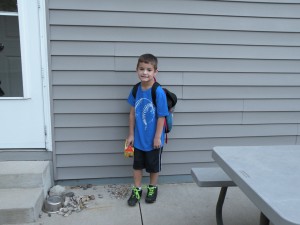 Bragging rights:  Mattox is now walking!  YES!  The braces help him to be steady on his feet. He loves to be outside and walk around.  His favorite destination is walking on the road.  He says lots of words but among his favorite are:  hot, off, on, socks, dog, woof, bruh bruh, Ella, ball, uh-oh, pop-em (Popsicle).  He recently said, "Bye bye, Mama" when I was leaving and melted my heart.
Lincoln's riding his bike with no training wheels, is a swimming fool, is the youngest yellow belt in Hap Ki Jitsu class, is a reading fool (took an AR test on a 3.1 book and got a 90% unassisted!), he ties his shoes, takes a shower/brushes his teeth almost unassisted. 

  Pretty cool stuff.  Now if I could just get him to hear the tone of his voice and work on that back talk.  Thank goodness he's generally a polite kid to other adults.
No complaints.  Life is good.  REALLY good.  God is good.  Things do get hard with two kids, and I get stressed.  I gotta work on stopping and just letting it be.  I need to remember to be still and know that God is there.  Will balances me so well in this and I'm grateful for that.  I wish I could just let stress go rather than rethinking things constantly and worrying.  I can only do so much, my house can only be so clean, I can only read books with my kids so much, I can only exercise so much, I can only feed my kids the right foods so much, teach them manners so much, etc. I am doing the very best I can.  If anything, I need to take better care of myself.  But the guilt I feel in taking the time to primp myself (make-up/hair) and showing that vanity over spending time on my house or with my kids is overwhelming.  Why can't I set aside an hour of uninterrupted time to work out, read, primp, etc.?  Seems too selfish.  I don't want to miss any opportunity to meet the needs of my family, I don't like for them to have to wait around or have little fits.  Maybe that's an excuse…
Here's a couple of pictures of us getting ready for Will's cousin Stephanie's wedding last weekend. It was a good time.  Mattox loved the strobe lights.  But we didn't get to slow dance because kids were exhausted before they played a good song to dance to.  :0 (  Boo!
previous post: Hey look at me I'm blogging!
next post: Diggin Up Them Holes, Diggin
You can follow any responses to this entry through the RSS 2.0 feed. Trackback from your own site.