Don't even know where to start.  Family is growing and changing daily and to document it all is impossible.  Maybe some bullet points:
I have to show this picture of pajama mornings in our living room though!  That's how this Memorial Day starts!!  Chillen in the living room!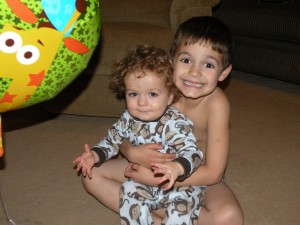 Will's lost 30+ pounds since January and I'm so proud of him!
I'm going on a missions trip to Costa Rica with my Rivertree family in August and have had an outpouring of support from friends and family!  SO blessed!
Mattox is growing like a weed.  Super smart, happy lil guy.  But, he's still not walking (16 months).  Early On did an in home eval and recommended some physical therapy at Lyle Torrent Center in Jackson.  That starts Friday, June 1.
I'm taking my 7/8 graders to D.C. tomorrow!!!  AHHH!
Lincoln is a tee-ball, hapki jitsu fool!  He's got mad skills!  But, riding his bike without training wheels continues to be a sore spot for him.
Lincoln lost his first tooth yesterday and he's super excited.
10 years of teaching @ da Vinci next month.  Many positive feelings about this.  Although, I think I should start an anonymous blog about teaching middle schoolers, a way to vent some of my frustrations.  I'm learning that I can only be effective for so long or so deep, and then I have to LET GO.  You'd think I would have that mastered by now.
Lost my grandma Rosie since I last blogged.  It hits me pretty hard sometimes when I least expect it.
Still working Ramsey (to a point).  Managing our money is the best thing we ever did for our relationship.  Well, there are others too.
Divorce.  It's something we've seen many friends/family go through.  In fact, only a couple of the marriages I've stood in are still standing themselves.  INCLUDING ours.  9 years next month.  Will and I agree that the thought of meeting at some obscure place to "trade the kids" is not appealing to us whatsoever.  I hope and pray we never end up near that point.  With God as our centerpiece, I think we're on the right path.
previous post: My boy is wicked smaaaart
next post: Braces, Tantrums & Backtalk
You can follow any responses to this entry through the RSS 2.0 feed. Trackback from your own site.